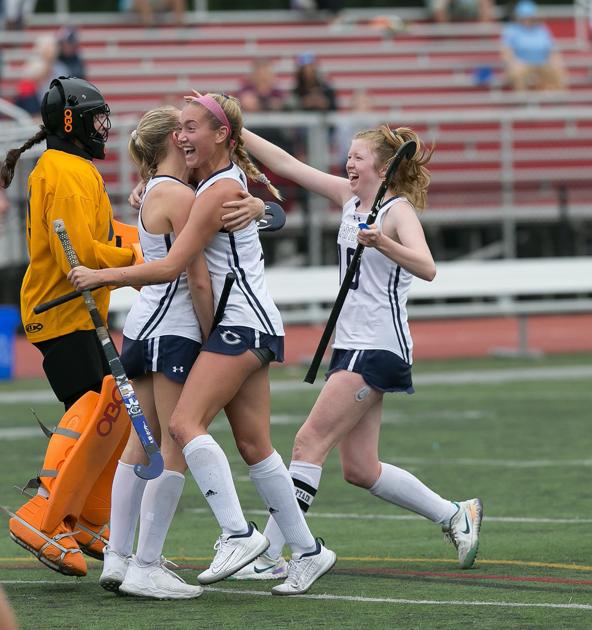 Chatham High Field Hockey Team Reach County Championship Game | Chatham Courier Sports
THE CHATHAMS – The Chatham High School field hockey team will finally have the opportunity to play for the Morris County Tournament Championship.
A year ago, the Lady Cougars were arguably the best team in the county, but the annual tournament has been suspended due to the coronavirus pandemic.
On Saturday morning, third-seeded Chatham received a goal and assist from Brooke DiBiase and an eight-save performance from goalie Kelly Bernich to secure a 2-0 victory over seventh-seeded West Morris Central in MCT semi-final in Boonton. High school.
Chatham, now 7-5-1, was scheduled to meet favorite Randolph (11-1) for county supremacy on Tuesday night in Boonton. Randolph, ranked 20th in the state, defeated fifth-seeded Morristown, 2-0, in the other semi-final on Saturday.
The Lady Cougars last reached the final in 2010 when they beat Madison, 3-2, in overtime.
"We knew it would be a tough game against West Morris," said Chatham head coach Kaitlin Leyden, now in his seventh season at the helm. "But it was nothing that we hadn't seen until we had played them twice already. We knew we had to give full effort for four quarters and we did."
Chatham and West Morris shared two regular-season games this fall, each claiming a one-goal win on their home turf.
On Saturday, DiBiase, a junior, quickly gave Chatham a 1-0 lead when she redirected an 8:11 opening shot from Kate McManus in the opening period.
That lead held until DiBiase assisted on Emmy Chazen's goal from a penalty with 8:51 left in the third quarter to give the Lady Cougars a 2-0 lead.
"Even though we had a two-goal lead, our mindset is that the game is 0-0," said Leyden. "We never want to get overconfident or arrogant. We just want to keep playing our game."
Bernich then took over by making several big saves on West Morris cornering opportunities in the second half, including two big pad saves in the final stanza.
Bernich, a senior keeper, now has five shutouts this season.
One of those shutouts was a nine-save effort in a 1-0 win over Randolph on September 10 at Randolph. Randolph won his next 12 straight games before losing a 2-0 decision to Montclair on Friday, October 14.
Randolph then defeated Chatham in the clubs' second meeting, 2-0, on September 30 in Chatham.
"It's a huge confidence boost for us to know that we can play with them," said Leyden. "But we are definitely the underdog."
Chatham went 11-1 a year ago, including a perfect 11-0 mark against Morris County Schools. His only loss came in the Northwest C tournament semi-final against Warren Hills – a regional tournament that replaced the standard New Jersey State Interscholastic Athletic Association tournament.
"It's exciting for the girls, especially the seniors who didn't have the chance last year," said Leyden. "We lost a lot of the senior team from last year, but they are all doing very well and are a very united squad."
DiBiase leads the team with nine goals and four assists, but Chatham has plenty of offensive depth with 11 other players registering at least one goal.
They include Ellie Hilgendorff (three goals, three assists), McManus (three goals, two assists), Chazen (three goals, one assist), Anna Decesare (two goals, one assist), Elizabeth Yarcheski (two goals) , Sarah Lupus (one goal, five assists), Kelsea Lee (one goal, two assists), Mia Sciacchitano (one goal, one assist), Baker Carroll (one goal), Maddie Engelkraut (one goal) and Kitty Garrett (one goal) ),
"Brooke is really good, aggressive, smart and really understands the game," said Leyden. "But all the girls in our midfield and our front line can score."