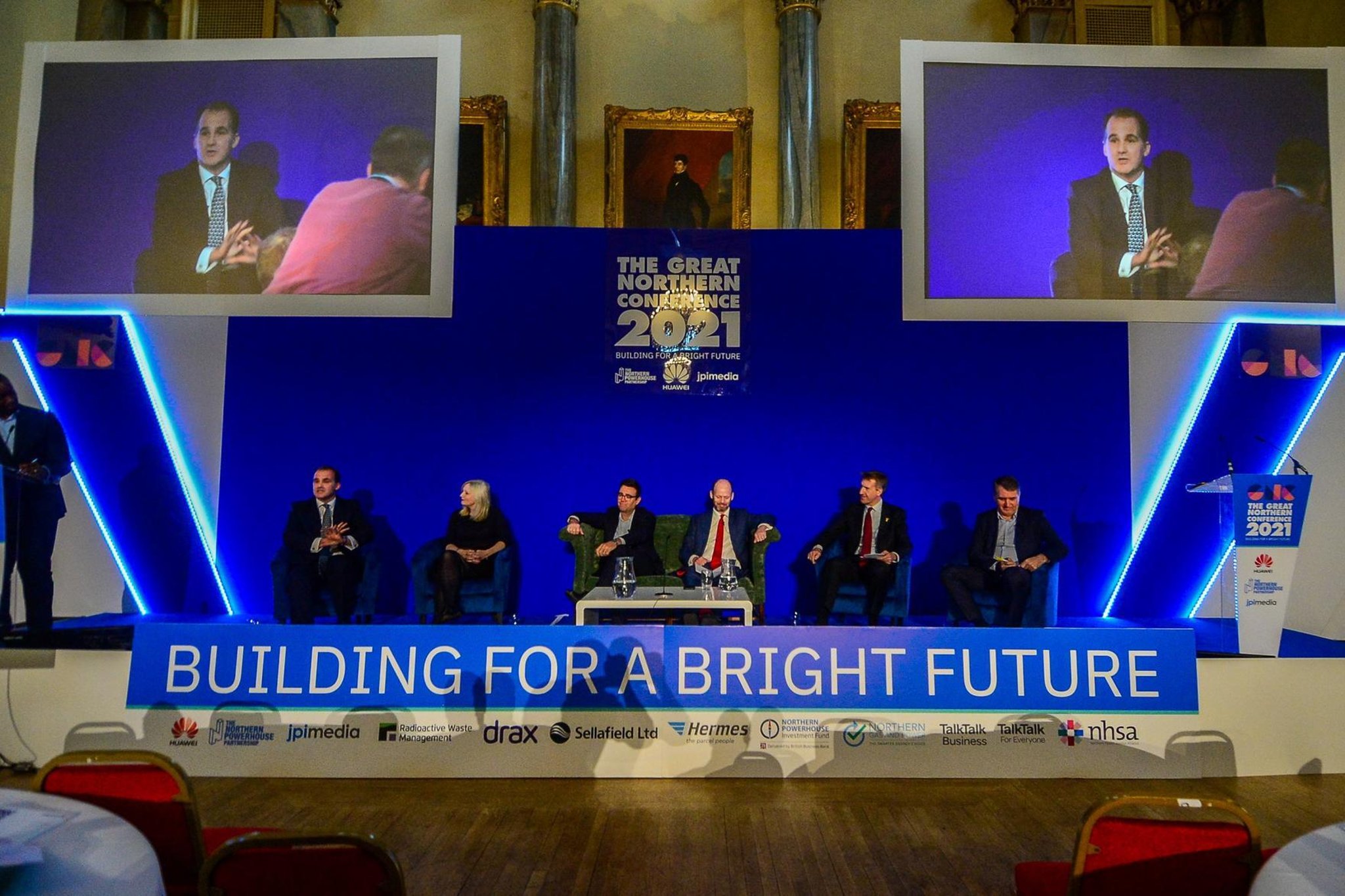 Collaboration is key for Lancashire businesses, says Great Northern Conference sponsor
The third Great Northern Conference, at Cutlers' Hall in Sheffield, was hosted by jpimedia and the Northern Powerhouse Partnership and brought together board leaders, business leaders, media and influencers from across the North.
Mark Sellers, Managing Director of TalkTalk Business which sponsored the event, said that building a brighter future, the event's theme also requires a collaborative attitude and changes in response to the post-pandemic business world.
He said, "In a rapidly changing business landscape, collaboration is vital to increasing agility and driving success. It is important for organizations of all sizes and in all industries to facilitate regular conversations with their employees, customers and the broader business community in the North.
The Great Northern Conference 2021 was held in Sheffield and online in October
"Companies have certainly learned a variety of lessons over the past 18 months, and as we emerge from the pandemic, knowledge sharing and application will be essential.
"At TalkTalk, we've made several changes to the way we engage with our colleagues, customers and other stakeholders over the past 18 months.
"With the focus areas below in place, we were able to increase our customer service score, retain our colleagues and customers, and open conversations across our sales network.
"By using empathy and understanding as guiding principles, business leaders will be in a much better position to understand and respond to common challenges and take advantage of emerging opportunities. "
He said engaging your workforce is crucial in delivering exceptional customer service while keeping teams happy.
"It's important for organizations of all sizes to make sure their employees feel as supported as possible, especially as they emerge from the pandemic.
"At TalkTalk, we do this in a number of ways. First of all, we have implemented a hybrid work policy to offer our teams a flexible and safe return to work in the office.
"Establishing flexible working hours and being more committed to fostering collaboration in the office is at the heart of this, and means our team members can get the most out of their working hours, wherever they are. "
He said supporting individual well-being was also essential, as they did through their TalkTogether series, which included monthly wellness-focused sessions for all employees with advice on a range of topics, ranging from preventing burnout to improving physical health.
Listening was also essential, he said.
"When the macroeconomic factors affecting businesses change rapidly, one-to-one conversations are more important than ever. Organizations need to focus on building platforms and channels that enable more open conversations with their customers and stakeholders.
"This has been important to our business over the past 18 months. At the onset of the pandemic, we quickly set up regular newsletters and a dedicated Covid hub to ensure customers are kept up to date with key information and clear points of contact, and we continue to focus on opening direct communication channels with our teams.
"As we move forward, it's vital for organizations to collaborate, keep the needs of employees and customers in mind, and learn from each other.
He said businesses also need to be nimble.
He added, "With confident and knowledgeable teams and up-to-date customer information, organizations will be better equipped to respond to external challenges and rapidly implement effective solutions.
For TalkTalk, the onset of the pandemic last year really underscored the importance of having that foundation in place. In March 2020, with the help of a team and committed partners, TalkTalk played a key role in delivering critical connectivity infrastructure to Nightingale hospitals across the
UK in a matter of hours – a project that would normally take three days to complete.
"In this case, clear communication channels and a competent and motivated team were the key to success. By adopting these fundamental principles, companies will be in a good position to strengthen both the capacities and the capacities of their teams.
"As we move forward and learn from the past 18 months, it is vital for organizations to collaborate, keep the needs of employees and customers in mind, and learn from each other in order to enable the growth and drive the success of the business community in the North and beyond. "
Read more
Read more
Lancashire Enterprise Partnership conference outlines the county's future