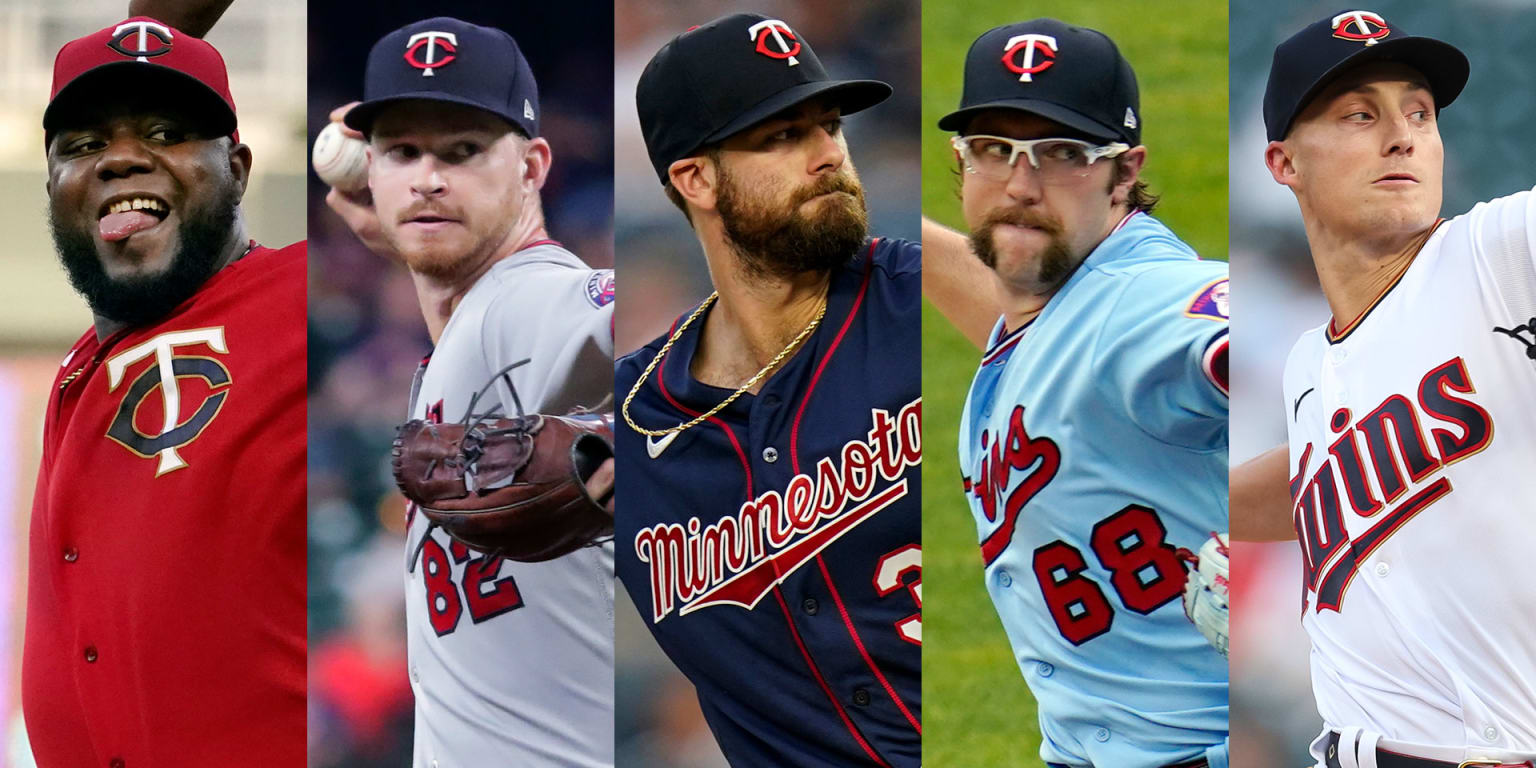 How the Twins' starting pitchers choose their uniforms
MINNEAPOLIS – When Michael Pineda started his career in Seattle in 2011, he was a rookie with little decision-making power. He then spent the next four seasons with the tradition-dictated Yankees.
When he signed with Minnesota ahead of the 2018 season, he found himself in full control of his wardrobe for the first time in his career, as the Twins offered three home jerseys and two road uniform options. he could choose from at that time.
"It feels good to be able to wear the shirt in whatever color you like," Pineda said. "When I got here I was like, 'Wow! We have so many different jerseys! Amazing! OK!'"
The Twins have made some changes to their son lineup since Pineda's arrival, expanding the roster to six main uniforms. Four of them are worn at home: the traditional house whites, the solid red alternative, a navy alternative, and the retro baby blues introduced ahead of the 2020 season. Their two road uniforms have remained unchanged for a decade. : standard grays and alternating navy blue.
With a few exceptions, the responsibility for choosing the team look for a given game rests with the starting pitcher that night. For home games, equipment manager Rod McCormick or a clubhouse employee will usually approach this starter a day before the start so they can get him ready. On the road, the starter will usually make a determination day, as he must first see what uniform the home team is wearing so as not to choose something similar.
Considering that there are six options to choose from, this is no small decision. How do the Minnesota starters make that call? Do they have preferences? We polled five of the Twins' starters earlier this month to find out.
FAVORITES
Red is clearly the winner among the current rotation, with four of the pitchers liking the solid red substitute at home with only the "TC" logo on the front – and interestingly enough, all four had different reasons.
For Pineda and Bailey Ober, it's a question of aesthetics.
Pineda: "Red is one of my favorite colors. If you have the opportunity to wear red while doing something I love – throw – I love using my red jersey."
Ober: "I like red. It's different. It's a little brighter."
John Gant doesn't care about color at all – for him it's all about the feel. He prefers red because he feels the fabric a little thinner than the others, which feels best when throwing.
Glove : "From the first day we carried it I was in the pen for it. I didn't throw that day, but just carrying it and feeling it, I knew it was the one that got me. fit best. I like that. Also the button – there are not the two buttons on the top. There is a button so it opens a little more, so there is a little more wiggle room for everything, you know what I'm saying? "
Randy Dobnak also loves that the red jerseys alone only have one button instead of two – for a very Dobnak reason. (He also likes the baby blues.)
Dobnak: "I like house reds because they show the hair on my chest a bit. I always take off just a pimple."
Glove : "You got this burger meat creeping around. It's what you want. It's what people want to see."
Of the five people interviewed for this story, Jax single-handedly showed a preference for standard household whites, even though the results show more intensive use of navy household substitutes.
Jax: "I've always been a fan of clean whites at home and clean grays on the road. I just think there's something about the simplicity, and I guess the story of the team at home wears white and the road team wears gray.
As for the route, there is a huge difference in the results. Ober and Pineda almost always sported the standard gray road uniforms, while Gant and Dobnak both opted for navy blue on the road every time – although it turns out that is not always intentional. .
Pineda: "Wow. I didn't even know that. Oh, wow. That's a good one. Wow. … Honestly, I didn't even remember they had the blue jersey on the road. I normally go to my grays. . "
METHODOLOGY
For some, there is not even a methodology. They know what they want, unless there is a special occasion when the team tells them to wear something else.
Glove : "I turn red at home and blue on the road. Exclusively."
Pineda: "I remember one day it was something that day and we had to use the sky blue. It's like, 'Yeah, no problem.' But every time they ask me what kind of jersey I want to wear, I choose my red, if I have a choice, I choose my red.
Dobnak is content to stumble on the decision.
Dobnak: "If you want to know how I choose, I text my wife and say, 'What swimsuit?' I guess she's not a fan of gray on gray. Maybe that's it. I never thought about it. I guess she always likes to go blue, so that's my reasoning. "
And then there are the two more superstitious guys. All pitchers interviewed indicated that there were no unwritten rules among pitchers on this team, but individual superstitions – if you can even call them that – certainly exist for the two rookie right-hangers who saw some action. extended this year.
Jax: "A lot of it now, I feel like, goes into what you win. Sometimes you'll see us wearing a jersey two or three nights in a row because we played well. I'm trying to say I'm not very superstitious, but I'd be lying if I said I didn't lean into it a bit. "
It doesn't help that one of the options is off the table for Jax, who also wasn't able to pick often early in his career due to the uncertainty of his schedule as a rookie. that goes up and down.
Jax: "The baby blues at home don't suit me, so I'll never choose that. The sleeves go down like halfway up my forearm."
But Ober actually thinks in a different way: he doesn't like to use a jersey that someone else has worn recently, no matter how successful the team is in this game. Perhaps it is for this reason that it has the most even distribution of domestic uniform use among rotation enthusiasts.
Ober: "Coming into that last series at home, I was like, 'Okay, I'm running on Sunday. I'll be wearing red on Sunday. Tiger Woods, you know? We wore red on Friday, so I was like, "Okay, it's over. Just because someone else wore it. Stealing my thunder. It's kind of a feeling. I don't. don't like to overtake. I just felt like I needed to do something else.
Instead, he chooses based on his own personal performance in each uniform. That's why he chose gray in each of his last eight road starts – because he had a pair of solid starts in gray towards the start of his season and wanted to stick to them.
Ober: "To me, I feel like it's personal juju. If you do well with a jersey, this is the one you choose, it doesn't matter if you won 10-0 last night in the same. or in another. "
While Ober has gone so far as to ask for his stats in each of the different jerseys so he can make more informed decisions in the future, Pineda doesn't feel such a connection between appearance and performance.
Pineda: "I'm not that type of guy. I like wearing red because it's one of my favorite colors, but it doesn't matter what type of jersey you wear. I focus on the throw and on my job. . "
A CALL TO ACTION
Even taking all of these differences into account in their individual methodologies, three of them (along with former starter Tyler Duffey) appealed: Bring back the pinstripe cream home substitutes that the Twins knocked out before the 2019 season in favor of the current navy home substitutes.
Ober: "I hope that maybe on the road we can bring back those cream stripes. They are my favorites. I would love to wear them. Someday."
Jax: "When they show the video reruns and the guys are in it, it's mine. I would wear it every time. They are such beautiful shirts. I don't know why we don't wear it as our replacement."
Glove : "I was really hoping for the pinstripes. I've never played for a team that has pinstripes. I know we used to wear pinstripes. I hold my breath, hoping they will bring them back. maybe soon. As soon as I got traded, it was one of my first thoughts: 'I think they're wearing stripes over there.' I was a little disappointed to hear that they didn't. I hope they bring them back, because I never had the chance to wear stripes, and I think they did. looks so good. … If you need me to sign a piece of paper, I'll support you on that. "