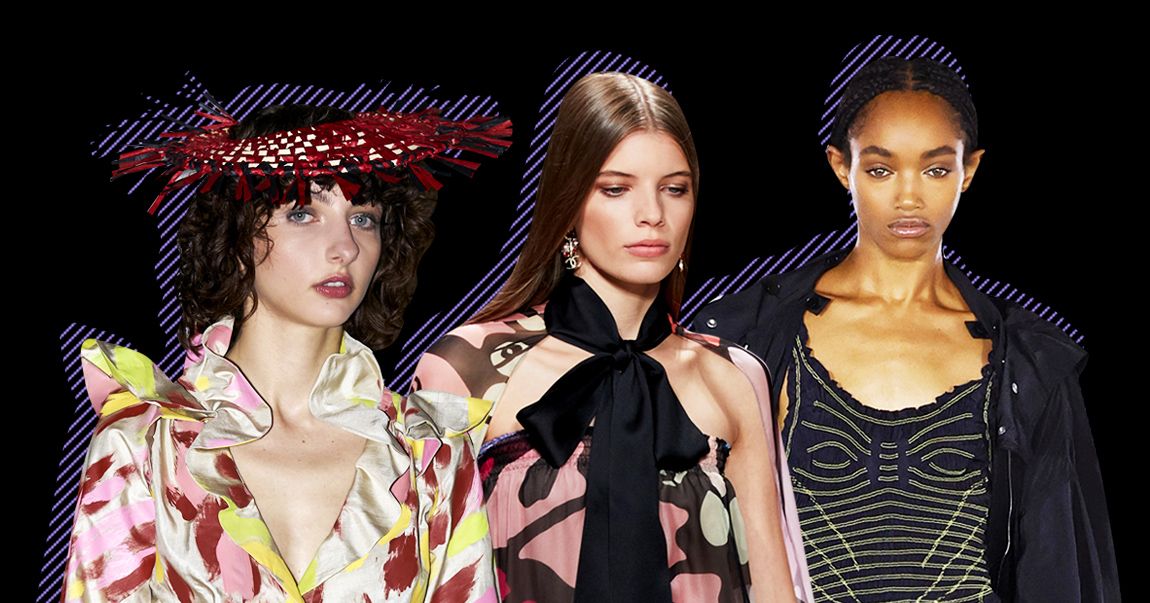 Paris Fashion Week Cathy Horyn review: Chanel
From left to right: Alexandre Blanc, Chanel, Stella McCartney.
Photo-Illustration: by The Cut; Photos: Courtesy of Alexandre Blanc, Chanel and Stella McCartney
Today's Chanel show appeared to be two simultaneous shows. There was the parade on the podium – a raised podium like in the 1980s, flanked by photographers – and the one that photographers Inez van Lamsweerde and his partner Vinoodh Matadin shot at the end of the track. A nearby video camera appeared to be aimed at them, and I noticed that they make eye contact with the models and seem to call out to them and even give some a thumbs up.
Inez and Vinoodh, as they are known in the industry, photographs Chanel's campaigns. They took the giant portraits of the models who greeted guests as they entered the performance space, a black tent near Les Invalides, and the one at the back of the runway. So in all likelihood they were creating a movie using one quintessential image – the elevated catwalk. Basically they were hoisting a flag that said, "Chanel is fashion."
Chanel.
Photo: Courtesy of Chanel
The models, in turn, played a role. They were more dashing, smirking, walking the way girls of old, although a few struggled to make it look natural, as hardly any model today walks with the hip swing of a youngster. Naomi Campbell or a Marpessa Hennink.
However, the main event – the spring collection of Virginie Viard – was the news. It represented a lighter Chanel and a welcome change for Viard, whose clothes tend to look heavy – voluminous jacket shoulders, too many layers, and a sort of cool French style cliché. This time, the opening looks were swimwear, some with black tulle skirts, followed by cropped logo tank tops and biker shorts. Not new to Chanel, but maybe just for now. Viard's costumes, in black curly hair speckled with metal and a wave of Easter egg hues, also felt lighter on the body. There were pretty, straight dresses in a grid of metal-hinged squares – curly and maybe denim – that nicely mimicked Chanel quilting. And Viard made a puffy motif (maybe an Art Nouveau butterfly) to do double duty, for sporty looks and chiffon evening styles. If there was one flaw in this otherwise engaging show, it was an excess of logos.
Alexandre Blanc.
Photo: Courtesy of Alexandre Blanc
The season has been odd, with big luxury brands trying to get back to "normal" – putting on celebrity-laden arena-style shows – and others going populist on the streets, and wearing more streamlined clothing. Perhaps this is why designers who have followed their own path have stood out. One is designer Alexandre Blanc, who launched his brand a little over two years ago, returning to Paris from a stint in New York at Oscar de la Renta. Blanc quickly posed a silhouette marked by a waist, an open neckline and soft shoulders. He also created his own original prints.
This season, when I visited him at the Palais de Tokyo, where he showed a film and a selection of his clothes, I was surprised and delighted to see a more laid back and rustic attitude. Same quality, same shapes – but now White had added abstract print pajamas (shown with an off-white linen / silk shantung trench coat), geometric print mini dress and cute handmade long sleeve tops. printed silk, the palette in seaside tones of pale yellow, clay, pink, deep red and beige. Overall it was more relaxed and special.
When I asked Blanc what the difference was, he stopped and said, "I have a very good friend from Oscar de la Renta, who was very close to Oscar, and he said to me : 'Alex, it's a shame, because sometimes you do more personal work for Oscar than for your own brand. How to come?' It's so difficult to expose yourself. I am not an Instagram specialist, I am not a communication specialist. It took me five seasons to get here.
Giambattista Valli.
Photo: courtesy of Giambattista Valli
Giambattista Valli stayed the course, but his antennae nonetheless took on a lighter attitude. It was amazing how few designers in Paris and Milan really embraced spring and summer clothing. You would think they were designing for a bunker, between dark layers and heavy boots. Not Valli. The key motifs in her lovely collection were the gardens, the delicate patterns on porcelain and the beach – recorded with sheer dresses and skirts whose base was a swimsuit, or could be one. For each ruffled bandeau top, he fought back with a mini coat, shirt, or better yet, a lovely sleeveless white cotton shirt with a built-in bow down the front, worn with a porcelain pink ruffle skirt slit high on the top. a leg.
Stella McCartney.
Photo: Courtesy of Stella McCartney
Not so long ago, at the Paris Opera, Stella McCartney splashed the walls with videos of wild animals fornicating. At another show, she handed out saplings for free. So on Monday, in the dome-shaped hall of an Oscar Niemeyer-designed building, when a voice over the audio system sang "Mushrooms are the future", no one could be surprised. The voice belonged to Paul Stamets, an American mycologist who appeared in the 2019 documentary Fantastic mushrooms. McCartney presented a new limited edition bag made from lab-grown mushrooms. "It's amazing technology," she said of a process that has been in development for years, adding that "this is really the future of fashion".
But from the first glance – a lime green jersey dress with cutouts, shown with a spearmint floating parachute coat – the show marked a larger change for McCartney. The clothes seemed lighter and less complicated, both in construction and in attitude. The movement aligns with other labels this season. "After such a period of transition," she said, "I wanted to try and project what the future might be for the Stella house – a light touch, a little more tender approach." The clothes corroborated this claim. Her signature pantsuits seemed lighter. There were crochet tunics with balloon pants, t-shirt dresses, and tops with gathers, and day canvas prints of – zoom in – mushrooms.